How to manage your personal budget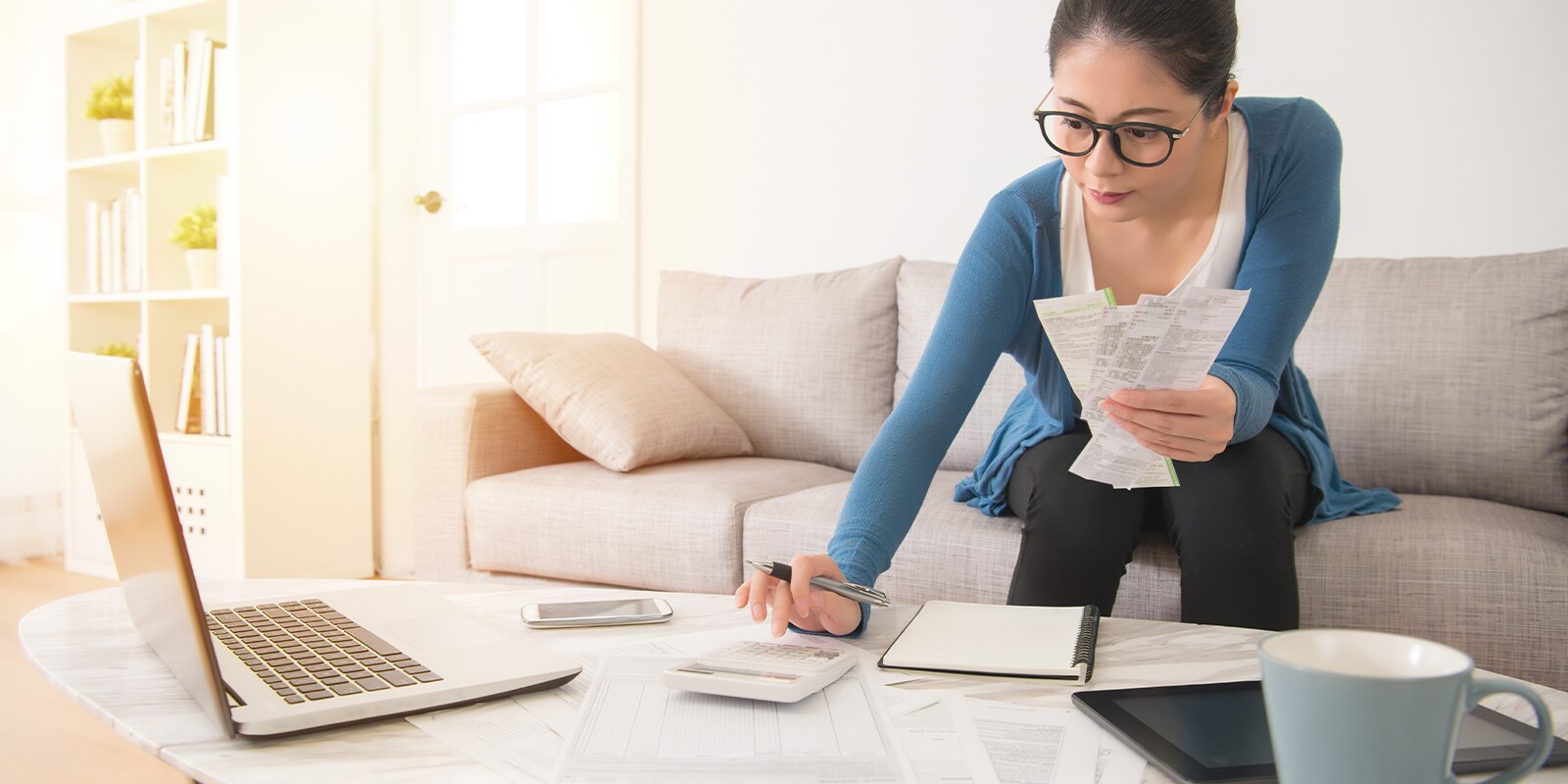 Managing your personal finances can sometimes feel daunting – but these handy tips will help you take control of your finances and budget like a boss.
Whether you're in charge of the household bills or a new student budgeting for the first time, managing your personal finances can feel daunting. Not many of us cover money managing tips at school or college, so it is often unclear how to save money and how to budget in the first place. Getting started is the biggest hurdle but, with these handy tips and ideas on how to take control of your finances, you'll be budgeting like a boss in no time.
Create a personal budget planner
To keep track of all your monthly bills, payments and expenditures, make a personal budget planner and see clearly what's going in and out of your account, and when. You can create your own on Excel, download a free personal budget template online or find a budget calculator from your bank.
Once you have your template, input your monthly income after tax and then start listing your fixed monthly outgoings, such as utility bills, phone bills, subscriptions, memberships, etc. and add the dates they are due. Moving your bill payment days to immediately after your pay day can also ensure you don't get any surprise bills later in the month. Now you can see exactly what amount is outgoing every month and what is leftover to spend or save. Remember to update the planner whenever your income or bills change.
For more advice and tips on putting together a budget planner, why not register for Managing my money, a free online money management course? It covers everything from property purchase to pensions and will build your budgeting skills.
Establish 'Needs' and 'Wants'
If you're unsure how much you should be spending and saving, using the 50-30-20 approach may help. Devised by Elizabeth Warren, senator and bankruptcy expert, this simple budgeting rule divides up your after-tax income to help you save over time while ensuring you always cover your essential costs first. Your earnings are allocated as so:
50% on needs: These are your basics, such as rent/mortgage, utilities, daily travel costs, basic food and personal care items, etc.
30% on wants: This covers every non-essential purchase, from eating out and entertainment to clothes, cosmetics and holidays
20% to savings: Add this to savings accounts or pension funds, or use to pay off credit cards and loans
If you find that your needs or wants start exceeding the allocated percentage, then maybe you should rethink what you consider a basic need and try to cut back on non-essential purchases where possible. This isn't a one-size-fits-all approach, so amend the allocations to better suit your personal circumstances and financial goals.
Pot of goals
Setting savings goals will keep you motivated to stay on track with your finances. While some set a high numerical goal, it can feel more rewarding and achievable to set smaller event-based goals, especially if you are saving up for a specific item or activity.
Banks such as Monzo allow you save your money in 'Pots', specific for your saving goal, be that a holiday, a birthday event or a pair of shoes you've had your eye on for months. This event-specific piggy bank approach makes your savings feel like a reward and forces you think twice before you dip into the pot early.
Identify wayward 'wants'
So, you've got your budget planner up and running and have established how much you spend on your basic needs every month. The only problem is you're overspending on your 'wants' and aren't accumulating any savings, but don't know where it's going wrong. Don't panic – we all overspend some months due to spending surprises such as parties and birthdays or needing to replace a broken laptop or TV. However, if you're consistently overspending, it's important to identify where.
Download your monthly bank statement and start categorising your non-essentials into eating out, entertainment, drinks, clothes, etc. to see clearly which category you've overindulged on and where you need to cut back. Going forward, keep track of your non-essential purchases in a spending diary each week to make it very clear what your budget is and how close you are to exceeding it before you make another non-essential purchase.
You may find it helpful to delete shopping and food ordering apps from your mobile phone and smart devices, so browsing (and purchasing) is less accessible. Make spending even less tempting by cancelling any subscriptions for free delivery, like ASOS Premier or Amazon Prime. Try to avoid impulse buys, and instead take pause to consider if you really need to make that purchase or if you can find a cheaper alternative.
To help identify and address any bad budgeting habits, and to discover a simple four-stage model for making sound financial decisions, check out Finance fundamentals: Financial planning and budgeting, our free online finance course that dives deeper into household budgeting.
Pocket money for grown-ups
Another way to moderate spending on non-essentials is to withdraw a set amount of cash each week as your own personal pocket money. By giving yourself a weekly allowance, and not using your debit card, you can set spending goals and prevent overspending once your pocket money runs out. You'll have to weigh up how much you really want that new video game, or if you'd rather use the money to go for after work drinks instead.
Start small
Adapting the way you spend isn't going to happen overnight, and it'll take a while to get used to your new personal budget. Start small and be realistic, with little swaps on non-essential purchases where you can. For example, if you resist spending £2.25 every day on a latte, in a year you will have saved over £800. Even more reason to get into latte art at home!
The world of savings and shares can be confusing, so get to grips with the key assets and liabilities with Finance Fundamentals: Managing the Household Balance Sheet, a free online resource that explores debt, credit scores, borrowing and investing as well as savings, bonds and shares. It also covers buying property and building pensions to help bust myths and enable you to plan for your future.
If you want to learn more about the risks and returns of investing your money, Finance Fundamentals: Investment Theory and Practice is the course for you. This comprehensive course covers investment strategies and your risk-return appetite and outlines behaviours that can impair effective investment decisions.
Find out more
For more money management resources and business finance and accounting courses to help grow your career, check out our library of online finance courses at UK Learns.