How to write a good CV – our top tips for 2022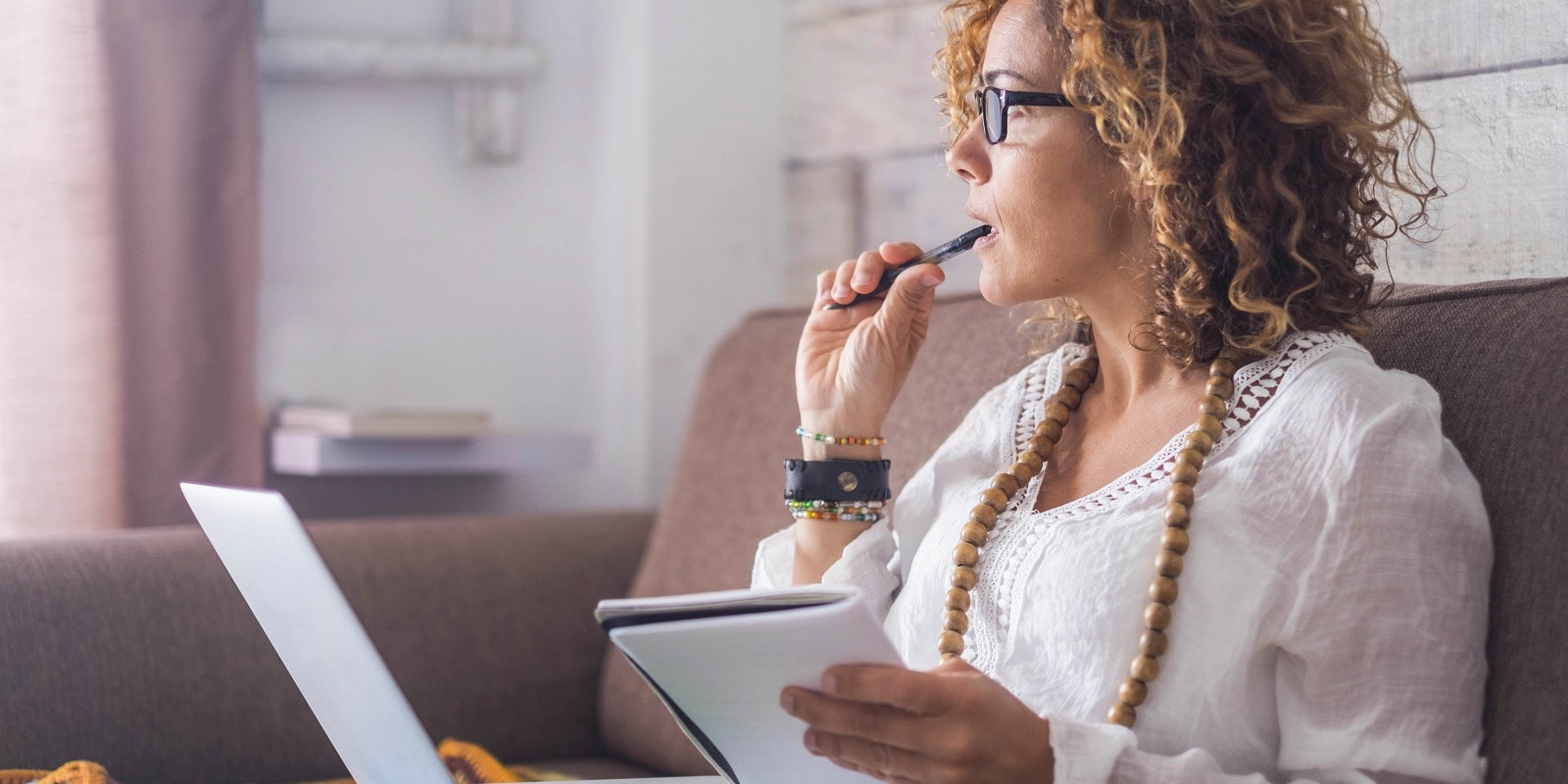 There it is… your dream job. The role description sounds like something you've always wanted, the perks are great, and the company looks an amazing place to work. However, the application deadline is looming, and you'll need to submit a CV.
But how to write a good CV, I hear you thinking….
Labelled as 'The Great Resignation', 2021 has seen a mass exodus of employees leaving their current jobs for new opportunities. This trend is set to continue in the new year and beyond as individuals continue to reconsider their careers in the drastically changed world of work.
So, as we move towards 2022, follow our eight steps to write a winning CV that'll help you secure your dream role. Alternatively, dive straight in with our course on how to write a brilliant CV.
1. Start by giving your CV (and its file name) a title
Similarly to any document you create, you'll need to begin by giving your CV a title. This should sit at the top of the page and should clearly state your first and last name. Avoid using the term 'Curriculum Vitae' in the title as the hiring manager will know they are reviewing a CV from the structure you've created.
Remember to title the file name of the document you are sending as well, and when you are doing so, include your first name, last name, and the word 'CV' here.
2. Add your personal contact details
As your name is already in the title, you've introduced yourself to the hiring manager, but your CV personal details can expand on your key information and how an employer can contact you.
In this section:
include where you are currently residing to demonstrate your proximity to the company's office.
include your personal telephone number and email address so the hiring manager can contact you. Use contact details that are the most convenient for you to respond from.
do not include your date of birth. Age discrimination in the recruitment process is illegal, so you do not need to include this.
do not include your nationality. Similarly to your date of birth/age, the Equality Act 2010 prevents discrimination by race, ethnicity, or nationality.
You can also incorporate some additional personal details on a CV applicable to the role you are applying for. For example, if the job will require you to drive, then state that you own a driving license to emphasise how you are a suitable fit.
3. Tailor your personal statement
A personal statement on a professional CV needs to provide an overview of your professional background, tailored to the role in question. This should be a short paragraph that explains what you do and your key responsibilities and strengths. Think about:
who you are: Reference your current job title
what you can bring to the table: Share your previous successes and skills related to the job description
your career goals: Outline what you are looking to achieve in your career, and subtly reference how this role can help you get there.
When writing your CV personal statement, make sure to relate this to the job you are applying for and the skills that the hiring organisation is looking to acquire. Aim for 50-200 words and keep it concise.
Undertake our How to Succeed at: Writing Applications course to find out more
4. Map out your relevant employment history
When thinking about how much employment history you should include on a CV, choose quality over quantity. If you have a wealth of experience, then include your previous jobs that relate best to the role you are applying for, rather than listing every job you've had since you were a teenager. For example, if you are applying for a role within education, then demonstrating relevant experience such as primary school teaching will show that you have worked in the industry and understand it well.
On the other hand, if you have little or no experience and are new to an industry or fresh out of university, showcase any part-time roles or volunteer work that you've undertaken to prove a good work ethic.
In your employment history, list out two to three key responsibilities and achievements for each job too, focusing on those with the most relevance. Again, make sure these are tailored to the roles and responsibilities you'd be undertaking at the new job if possible.
5. Showcase your skills
The skills section in your CV allows you to demonstrate your suitability for the job, and that you own the relevant skills the business is looking for.
If you can, prioritise demonstrating 'hard-skills' which are specific capabilities that enable you to do a task. For example, if you are applying for a finance role, you may want to state your proficiency in Microsoft Excel as a skill, or if the role requires you to collaborate with teams in other countries, then showcase your fluency in foreign languages.
You should also showcase a variety of 'soft-skills' in an array of areas to evidence how you work and the interpersonal attributes you possess. If you are writing a CV with no experience or are just looking to upskill, consider utilising our online courses to demonstrate your ownership of skills such as project management and leadership.
6. List your education and professional qualifications
In this section, list out your formal education gained at school, college and/or university. If you are early in your career, this will be one of the most important sections for you to explain the skills and knowledge you've acquired through studying. Alternatively, if you have plenty of experience, then simply refer to what qualifications you have.
When referencing GCSE's and A levels, you do not need to list out every single subject but instead, summarise the number of qualifications you've obtained, the range of your grades and that this includes English and Mathematics. For your university degree, write the subject area you've graduated in and your grade classification. If you are currently studying, add in date ranges to make it clear that you are still learning.
Alongside this, list out any relevant professional qualifications you've gained or are working towards, particularly any that are essential to working in a particular field. For example, if you want to work as a solicitor, you'll need to demonstrate that you've completed a Legal Practice Course (LPC).
Enhance this section of your CV by undertaking a certification from our selection of courses and adding it to your list of educational and professional qualifications.
7. (Briefly) include your hobbies and interests
When writing a professional CV, include 2-3 hobbies or interests outside of work to ensure your personality shines through, but keep this brief as this is not a focal point of the CV. If you can, relate these to the industry you work in. For example, if you are looking to work in sport, then mentioning that you are part of a tennis team will show you are passionate about the industry.
Even better, turn your hobbies and interests into achievements to validate your ambition and drive to succeed. Perhaps you are a keen runner who has completed a marathon or an explorer who has climbed a mountain? Write these impressive accomplishments down to make your CV stand out from the crowd.
8. Conclude by referencing your references
Finally, round off your CV by mentioning your references. For this, do not list out who your references are and their contact details, but just write a note that your references are available upon request. You may be asked to provide these at a later date, in which case you can share their contact details once you've got approval. If you are struggling to find a professional reference, consider using a family friend who can support statements about your character.
Other quick wins:
What colour should my CV be?
A black and white CV will generally do the trick, but if you'd think it needs more colour, consider using colours such as navy blue to keep it looking like a professional CV. Avoid using vibrant colours such as yellow and pink as this will make it overwhelming and difficult to read.
How long should my CV be?
According to leading employment agency Indeed, the average length of a CV should be around two to three pages. You won't be penalised if you can condense the key information into one page, but on the other hand, if you are exceeding four pages, you might need to rethink what you'd like to include.
Your CV should be as long as you think it takes to effectively summarise the key information that sells you as a job candidate, so don't get too hung up on the number of pages. Do however be mindful that the hiring manager will need to read your CV and lots of other peoples too, so make sure that what you do include is clear and concise to make it easy for them to review.
Which program should I create my CV on?
A standard CV should be created on a document software tool such as Adobe Acrobat, Apple Pages or Microsoft Word. When your CV is complete, convert the finished product into a PDF to avoid any formatting issues when sending off your application.
For some roles, such as Graphic Designers for example, you may be required to create a portfolio to visually showcase you're existing work, in which case you should use programs such as Adobe Portfolio or Behance. Check the application requirements and adapt this to your line of work accordingly.
One last step!
Congratulations, you've perfected your winning professional CV – but you're not finished just yet! Before you send off your application to wow the hiring manager, make sure you've done a thorough proofread of the document a couple more times.
To help you, make sure you conduct a final spelling, grammar, and formatting check, and make use of the 'Read Aloud' or 'Immersive Reader' functions on Word to hear what it sounds like when your application is being reviewed. Alternatively, ask a friend or family member to check over your CV, the higher their language grades, the better.
If you still need more information on how to write a good cv, consider:
Once your CV is complete, it's time to prepare for the interview, so calm the nerves and get ready to succeed by enrolling on another one of our free expert courses.
Ready to take the next challenge? Head to Pearson UK Learns and explore our ever-growing range of online courses, from cross-sector professional skills that will get your CV noticed to industry-specific accredited qualifications that real employers' value. There's something for everyone at Pearson UK Learns.