The 12 courses of Christmas: How to make your CV stand out for the new year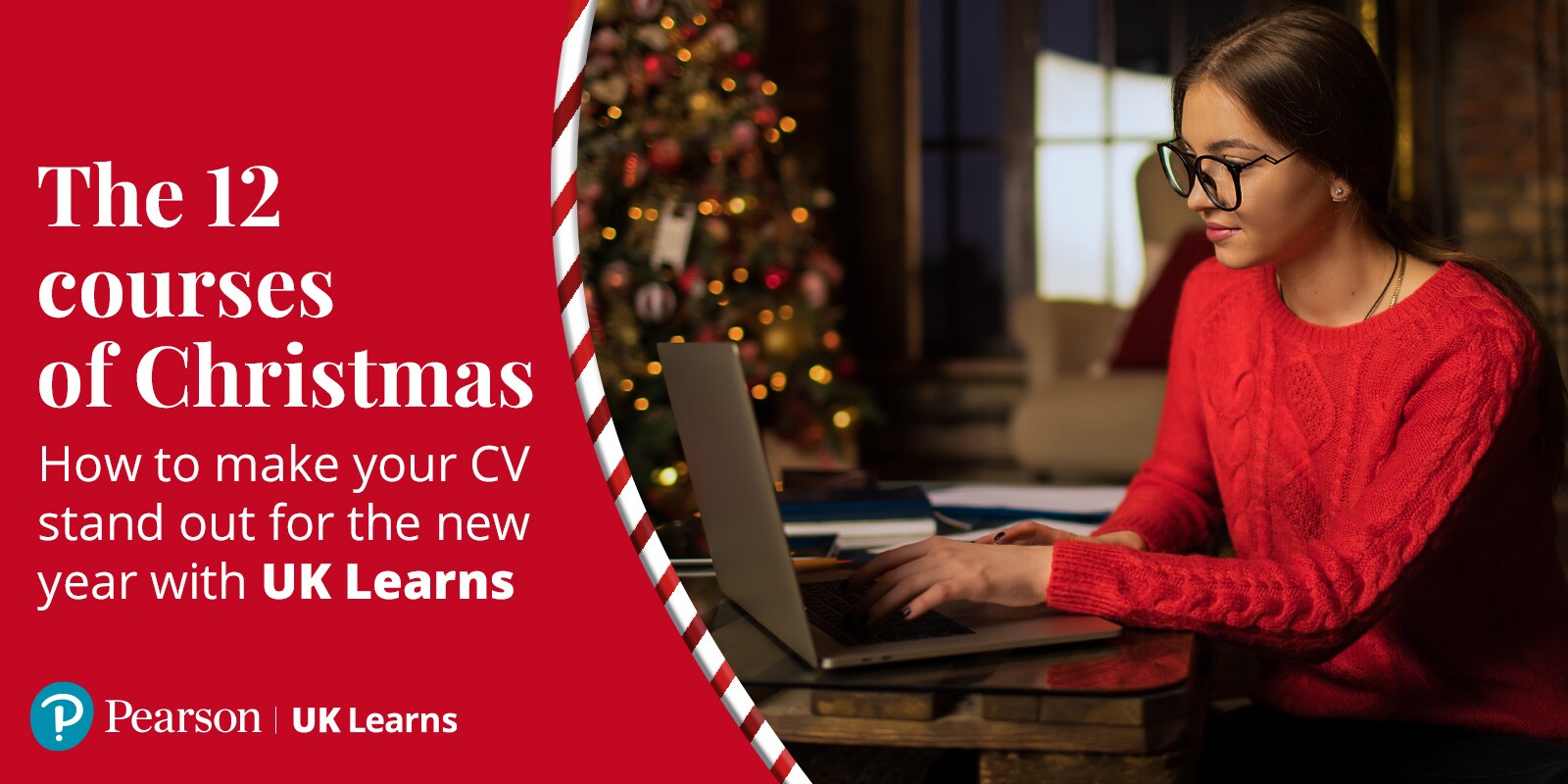 If you're concerned about job security going into the new year and want to get your CV in shape, why not take part in the UK Learns Christmas Challenge – the 12 courses of Christmas?
We all know that this Christmas is going to be a bit different. After a turbulent year following the outbreak of COVID-19, many of us are feeling deflated and anxious about the future, especially with furlough ending and redundancies increasing. If you're concerned about job security going into the new year and want to get your CV in shape, why not take part in the UK Learns Christmas Challenge – the 12 courses of Christmas?
We've compiled a list of our top 12 online courses that'll boost your CV and cover letter and give you the skills to succeed, no matter what job sector you're in. From tips on building resilience to lessons on deepening your emotional intelligence, we've got just the courses you need to be your best self in the workplace. They've all got short study times and are taught entirely online, perfect for squeezing in around your festive celebrations while you contemplate another mince pie. Check out the complete list below and challenge yourself to go further this Christmas.
This career-guidance questionnaire is perfect for those looking to progress in their current role or pursue a new career. You'll work on building self-awareness to help you plan and progress and identify the skills you need for your future career. With just 20 minutes of study time, you can do this speedy course while you're waiting for your next glass of mulled wine.
Learn how to get your message across with communication skills that captivate. Whether you've got a presentation task for an interview or need to share the new strategy with your team, this six-hour course covers strategies, techniques and tips which will ensure that when you speak, people will really hear you.
Build up your professional and emotional resilience and start thriving in the workplace. This six-hour course explores the meaning of resilience and healthy coping strategies for challenging situations. After a turbulent year, there's no better time to learn how to thrive and keep up momentum.
Being able to work well in a team is one of the top skills employers look for. Learn how to be a good team player and an effective team leader in this online professional skills course that covers the main features of projects, project teams and project management.
Looking for tips on how to write a cover letter? Want your CV to stand out from the crowd? On this short course, you'll learn from careers experts as they share their advice on writing exceptional applications, CVs, cover letters and personal statements. Learn how to promote yourself through writing and hear from employers and admissions tutors to find out what they really look for in a candidate.
So, your application impressed and you've been offered an interview? On this online course, careers experts from The University of Sheffield will make sure you are prepared for every element. From identifying how to approach answering different types of interview questions to understanding your strengths, skills and key selling points, build your confidence before the big day.
Developing your understanding of emotional intelligence is a crucial skill to ensure the workplace operates in harmony. In this six-hour course, you will be introduced to the origins of emotional intelligence and examine how emotional intelligence can be applied within organisational settings to help teams thrive. Entirely online, you can study this course wherever, whenever without leaving the sofa.
Being able to identify your transferable skills is vital in a changing career marketplace. This course explores the current job market and challenges you to reflect on your strengths and weaknesses to unleash your potential. With just six hours of study time, it's easy to squeeze this course in and around your festive celebrations.
In a globalised world, the ability to work effectively across cultures is vital and makes all the difference to effectiveness, performance and success. Learn about the key aspects of cultural intelligence and how to improve your own with just 15 hours of study time. This Christmas, it's never been more important for us all to come together.
Packed with the tools you need to take your career to the next level, this speedy four-hour course is a no-brainer. Set career goals and learn how to achieve them and explore the importance of transferable skills and creating the right professional network. You'll also hear from like-minded individuals who propelled their careers forward using similar career-development plans.
We have never had greater need for clear communication skills in today's world of work. Find 4 hours this festive season to learn how to master useful communication skills like active listening and assertive speaking. This course covers everything from writing concisely to overcoming obstacles – what are you waiting for? Sign up now.
Right now, it's never been more important to harness the positive power of your mind. Finding a job in the current climate isn't going to be easy but developing a better way to think and act will give you higher levels of happiness, confidence, creativity and success. Learn how to bounce back, eliminate excuses and get the best out of your life with this short seven-hour course.

Keep the momentum
Ready to take the next challenge? Head to UK Learns and explore our ever-growing range of online courses, from cross-sector professional skills that will get your CV noticed to industry-specific accredited qualifications that real employers' value. There's something for everyone at UK Learns.