What is online learning? Discover the top 5 benefits of studying online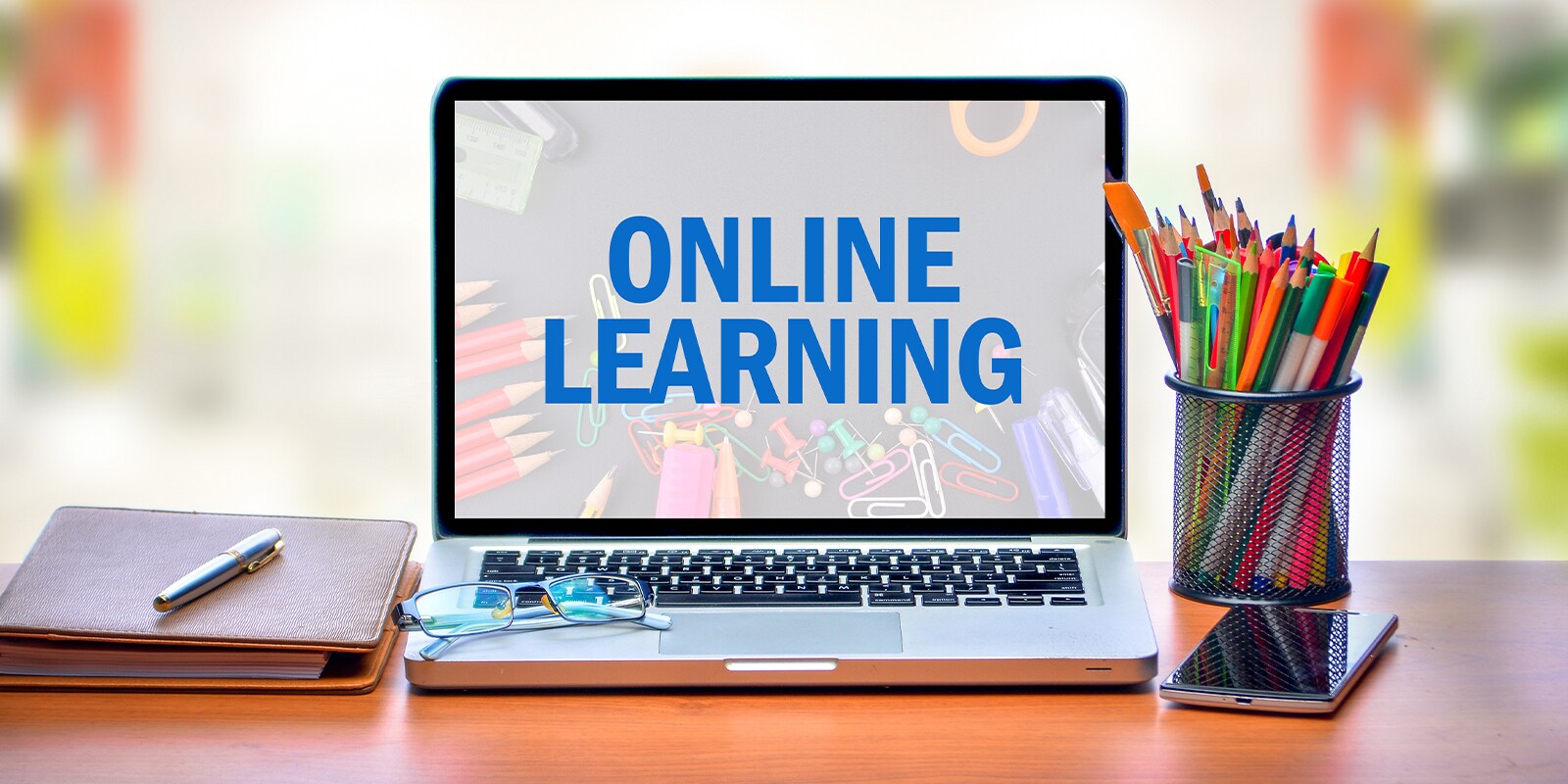 Thinking about studying online and want to know if it's right for you? You've come to the right place.
Online learning has been around for a while, but during this past year, many of us have become a lot more familiar with it. Put simply, online learning is any learning that takes place over the internet instead of in a traditional classroom setting, with online students studying anywhere with a Wi-Fi connection. With amazing technological advancements over the past few years, universities and educational institutes have been rapidly increasing their online degree offerings to reach students from around the globe. And now, many other qualifications can be gained fully online, too.
Whether you're seeking a master's degree without the need to relocate, curious about a different way gain key skills or simply want a more stimulating alternative to watching another boxset, we're here to show you how online learning can benefit you and your career prospects.
Learn flexibly at your own pace
One of the known negatives of studying in a classroom is being forced to learn at a set time and schedule. Learning online allows you to log on and study when, where and how you want, so you don't have to worry about early morning lectures or commuting in rush hour. You can balance all the important things in your life alongside studying, such as childcare, hobbies, socialising and travelling. As long as you've got Wi-fi access, you're ready to go.
Unlimited study opportunities
You might already know what skills you need to progress in your career and, by choosing to learn online, there are fewer limitations to what you can study. With traditional study, you might be limited to specialist institutions in specific locations or what your local universities have to offer during the academic year. The online learning space lets you study courses and access other resources that may have otherwise been out of reach. You can choose to focus on one course or even tackle multiple online resources to expand your skillset in your own, tailored way.
Earn while you learn
In a traditional on-campus setting, taking a course to learn new skills means you might have to temporarily give up your career or go part-time to accommodate very rigid schedules. When you learn online, you can develop your skills, knowledge and employability without taking time away from your professional or personal commitments. Many of us can't simply quit working to study, so online learning allows you to remain financially stable while you upskill.
Building a professional network
While the country comes out of lockdown, there are no in-person networking events or opportunities to connect with other professionals face-to-face. So, while you put away those business cards for the future, learning online will allow you to meet other like-minded professionals and continue to expand your network in the present. Whether via forums, discussion groups or online calls, you won't feel isolated while studying from home. It's an easy way to stay in touch and build professional relationships that can continue to grow when isolation ends.
Gain in-demand employability skills
Not only will you gain a new qualification through online learning, independent study will also build your self-motivation, determination, and time-management skills. These desirable professional traits will give you a competitive edge in a crowded job market, as employers are increasingly looking for candidates with these crucial soft skills.
Get started today
Distance learning can help you gain the confidence and key skills to go after a promotion or new job. Head to UK Learns and explore our ever-growing range of online courses, from cross-sector professional skills that will get your CV noticed to industry-specific accredited qualifications that real employers value. There's something for everyone at UK Learns.