Top 5 in demand tech jobs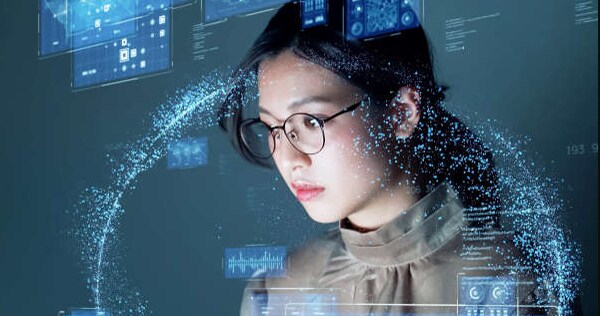 Are you looking for a career in the tech industry but are not sure where to start? We're here to help!
From data science to project management, we've created a handy fact file for the top 5 jobs in the industry with salary information and tips on how to get started. Check it out below:
Data scientist
Labelled as the 'hottest job of the 21st century' by the Data Science Foundation, there's no better time to kickstart your career as a data scientist. In LinkedIn's 2020 Emerging Job Report, data scientist ranked 7th in the UK. From finance and retail to health and government, companies big and small are continuously receiving more and more important data and need experts to analyse the numbers to produce critical insights. Check out our job fact file below:
Skills required: Data science is a collaborative business area, so data scientists will need strong teamworking and communication skills. You'll also need to know programming languages, such as SQL and Python, and how to code. In some businesses, the role may involve working to tight deadlines, so project management and organisational skills will help you excel
Salary: Junior data scientists can expect to earn around £25,000 to £30,000, rising to £40,000 to £60,000 as you get more experienced. Chief data scientists can earn up to £100,000
Career progression: The more you learn, the quicker you can expect to progress as a data scientist. Junior data scientists go onto more senior data science roles in a matter of years, taking on people management responsibility as you go. The skills are transferable across a wide range of industries, so switching companies will be easier.
 
Cyber Security Analyst 
Over the last decade, cyber-attacks against big companies' private data have become more prevalent. On the frontline preventing these attacks are cyber security analysts, who create firewalls to protect network infrastructures. As we rely on and store more data, this role has never been more in demand, with around 100,000 unfilled cyber security jobs expected in the UK by 2022. 
According to Digital Guardian reports, the role comes with 'above-average opportunities for advancement and salary' and is 'ranked 7th among Best Technology Jobs, lands at 19th among the Best STEM Jobs , and ranks 52nd among The 100 Best Jobs'. Check out our job profile below:  
Skills required: Critical thinking, communication and collaboration are key skills for any aspiring cyber security analyst, alongside hard skills including scripting and hacking. 
Salary: You can expect to earn between £25,000 and £35,000 when starting out, rising to £35,000 to £60,000 as you gain more experience. In higher-level leadership or managerial roles, average salaries are in excess of £70,000.
Career progression: After gaining a few years' experience in a junior role, you'll progress into roles such as senior cyber security analyst or consultant. From there, you'll qualify for higher-level leadership roles, including director or head of cyber security. There's also a lot of scope for self-employment, setting up your own company.
Machine Learning Engineer 
It's a great time to get into machine learning roles as, according to Indeed, Machine Learning Engineer job openings grew 344% between 2015 to 2018. Similarly to data scientists, machine learning engineers also work with vast quantities of data but instead of presenting insights back to a human audience, they design self-running software to automate predictive models. Check out the job profile below: 
Skills required: Aspiring machine learning
engineers will need to familiarise themselves with data structures, data modelling and software architecture, and have essential coding skills. Employers also look for excellent communication skills, the ability to work in
a team and outstanding analytical and problem-solving skills.
Salary: Starting salaries for this role are around £35,000, with the average UK salary for a machine learning engineer at £52,000. As you progress, this can rise to over £150,000.
Career progression: This sector is set to keep
growing as we rely on machine learning technology more, so you can expect brilliant progression opportunities, especially at large multinational tech companies like Google and Facebook. At senior levels, expect to manage a team. There's also big scope for freelance and contract opportunities, as well as starting your own company.
Cloud Engineer 
With over 68% of enterprise IT departments now using cloud infrastructure, it's no surprise that Cloud Engineer was named one of the most in-demand tech jobs of 2019. The
role of a Cloud Engineer is extremely varied based on the company, but ultimately they are responsible for assessing the existing infrastructure of a business and finding solutions for moving to a cloud-based system. 
According to Indeed, job searches for roles related to cloud computing rose nearly 108% between 2015 and 2018 with employer interest for candidates with cloud computing skills also rising by 33%. Check out our job fact file below: 
Skills required: Cloud engineers will need substantial software development experience, working with a variety of programming languages and tech tools. Some companies prefer additional certifications to demonstrate technical knowledge such as vendor-specific certifications for major providers, such as AWS.
Salary: The average salary in the UK for entry level positions is around £40,000. With more experience, cloud engineers can expect to earn between £30,000 and £70,000.
Career progression: Cloud engineer encompasses a few
different cloud-focused engineering roles, so once you've mastered the basics, you can specialise into a role that most suits your skillset, from cloud architect to software development.
Project manager 
According to the Project Management Institute's talent gap analysis report, the demand for project managers is growing faster than any other occupation and, by 2027, there will be demand for up to 88 million individuals in project management-oriented roles around the globe. A wide range of industries need project managers, from marketing and IT to construction and engineering, so you can find a company that most compliments your interests and skillset. Check out our key job stats below: 
Skills required: Unsurprisingly, project managers need excellent organisational skills to plan the use of people and resources to meet deadlines. The role involves lots of teamwork, so strong interpersonal, communication and negotiation skills are also required. The ability to manage budgets, work to your initiative and make decisions under pressure will also help you shine.
Salary: Salaries for project managers are competitive, with starting salaries of up to £35,000. Experienced or specialised PMs can expect to earn double this, up to £80,000 
Career progression: Project managers really make a difference to a company's bottom line and gain the transferable skills needed to rapidly progress into senior management roles such as PMO manager, head of department, director or chief executive.